Browsing all articles from January, 2009
I consider myself a Twitter newbie, but I know I will be racking up the tweets in the weeks ahead, as LibraryThing has just added Twitter integration. That is, you can now add books to you LibraryThing account via Twitter. The set-up process is very straight forward as are the tweet set-ups.
I'm ready to go, but I don't have any books to enter. All mine are already cataloged… something that needs to be remedied this weekend!
Hugh, over at BookOven just posted a pic of one his (neatly lines with bookends on every shelf) bookshelves and asked folks to share their own. I'm home with our 5-month-old this morning, so was able to turn around and snap this. I don't get to play along much! I didn't realize how crowded my shelves were until I uploaded the pic.
Cinder blocks and 2×4′s, anyone?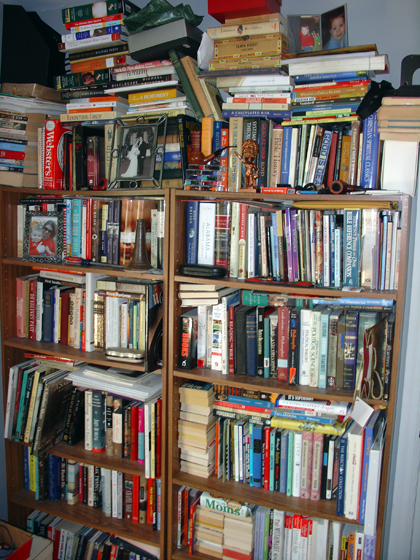 Friday, January 30th, Former President Jimmy Carter is scheduled to be at the Books-A-Million in Brookwood Mall signing his latest book We Can Have Peace in the Holy Land. I couldn't find where you could reserve copies in advance, but he's scheduled to be there at 7 p.m.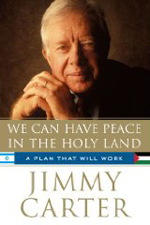 S&S has launched the replacement for simonsays.com. The new site is full of video and audio and sports a community section. I haven't clicked through everything yet, but it seems par for the course these days amongst publishers. Kudos to S&S for finally getting it launched!
Orbit Books is offering one e-book for $1 for one month, through April. They even set up a special promotional site. One thing I found interesting is that they are not serving up the downloads themselves. They have tapped into the myriad of online distributors of digital book files.
I think this is great promo Orbit is running. And I'm sure more publishers will follow suit. I just wonder how long it will be pefore publishers bite the bullet and invest in their own site infrastructure so they can serve up all these file formats themselves…  fewer clicks is a good thing, for the customer and for the distribution fees.
Tor seems to be doing this very well.
Set your VCR's and DVR's! Depending on where you live, you will get a chance to catch Helvetica, on your local PBS station, either Tuesday or Wednesday of this week. The full-theater release was about 80 minutes long, but they have condensed it to 50 minutes and are airing it as part of their Independent Lens series.
You can go here to see when it's showing in your area. If I'm reading the schedule correctly, it first will air, in my little corner of Birmingham at midnight, Wednesday, January 7th.
BTW, I took the quiz and it turns out that the internet thinks I am Times New Roman. Not sure how I feel about that. It could have been worse I guess (can anyone say Comic S***?).
The Emmet O'Neal Library is hosting one of its one-in-a-blue-moon Friends of the Library Paperback Book Sale on Tuesday, January 6th. The sale will run from 9am to 9pm. I'm always amazed how many great condition books these folks are able to collect.
If you plan on going, please try and go late in the day… so I might have a chance to pick through the offerings first!

JPG Magazine broke out with a bold content generation plan a couple of years ago: bring a "photo enthusiast" print magazine, they would scour the internet for the best of the best non-professional images and reprint them in their pages. It's always been a fun magazine to flip through. As innovative as this approach was, their business model was not so much, as they relied on ad sales to support the printed product.
In my opinion they made a VERY good run at it and I am sad that they are closing up shop. You can get the full run-down from their blog. At a minimum, they are one great case-study for publishers everywhere trying to divine the future of print media. I just wish Laura and crew could have made it.
Blogs I Like
Links
Categories