Browsing all articles in Upcoming Titles
It looks like famed bibliophile Nicholas Basbanes and Knopf have put the finishing touches on Basbanes' long awaited new book "On Paper: The Everything of Its Two-Thousand-Year History". It has an official street date of October 15, 2013. Basbanes started researching paper and paper ephemera back in 2005. The new Basbanes book was first mentioned in a CSPAN video interview the author did back in 2008, where he gave the cameras a tour of his home library. The new book is listed at 488 pages with a full retail price of $35.00. Can't wait to see what it looks like when it comes out this October!
Basbanes is best known for his books about book collecting and bibliomania  A Gentle Madness and Patience & Fortitude.
Finally! Donna Tartt's new novel has been announced and will hit stores October 22nd. It's called The Goldfinch and according to the publisher's website it is about a boy who is running through the dark underworld of art:
"A young boy in New York City, Theo Decker, miraculously survives an explosion that takes the life of his mother. Alone and determined to avoid being taken in by the city as an orphan, Theo scrambles between nights in friends' apartments and on the city streets. He becomes entranced by the one thing that reminds him of his mother: a small, mysteriously captivating painting that soon draws Theo into the art underworld."
The book is listed as coming in at 608 pages! So it's another big one. But have you read Secret History or The Little Friend? Donna Tartt is the kind of writer that could make a grocery list worth reading. Looking forward to October 2013.
Here's one I haven't read yet (it comes out August 7th, William Morrow/Harper Collins), but I'm pretty excited about it. Some Remarks: Essays and Other Writing is a collection of pieces by Neal Stephenson. Much of Stephenson's new book is non-fiction, but I've heard there a couple of short stories as well. In the book Stephenson talks about his geek travels where he travels to far off places just to witness the installation of fiber optic internet connections in some remote pocket of Asia. He also tries to make a case for "modern Jedi knights", chats metaphysics and technology/freedom vs. the Chinese. So it's all over the place. Should be fun!
If this book is as detailed and accessible as his fiction, I know it's one I am going to enjoy.
Anything new coming out that you're looking forward to?
Harry Potter author has a new not-for-teens book coming out on September 27, 2012. It's called The Casual Vacancy (Little, Brown and Co.) and is being billed as "a big novel about a small town" (read more on their press release). Many are speculating how Rowling will fair without Harry's, but the publisher is betting big – just look at their pricing for the new 512-page book:
Hardcover $39.00; Download Audiobook $29.98; eBook $19.99
An ebook at half the price of the hardcover seems like a fair proposition, but I am anxious to see if Rowling fans (or Potter fans?) are willing to pay $20 for an eBook. Maybe it'll be some all enhanced or gussied up eBook. What I'm really interested in is if there is some agreement circulating to keep the price at $19.99 or if online retailers will be allowed to discount the eBook. I guess no one can tell in these days of DOJ filings and pricing talks.
I'm in the global minority in having not read the Potter series and I'm not sure if The Casual Vacancy is something I'll pick up, but man am I ready for September to see how the book is received and sold.
Nicholas Basbanes is world's leading expert on "books about books". In 2009, during a BookTV interview (and tour of his home library), he teased his next book about the history of paper. It looks as if that new book, titles Common Bond, will finally get finished and printed. Basbanes is slated to speak at a University of Missouri dinner next week. An interview in the school's library newsletter (PDF download) has Basbanes talking about the book briefly, saying:
"…I am loosely describing as a cultural history of paper and papermaking. It is a story that covers two thousand years but, consistent with the way I do things, is pretty much an exercise in storytelling. I go where the good stories are."
The book has traces paper's invention, use and future from the earliest pulp recipes in China through the current artisan and preservation efforts of today. The folks over at the FineBooks blog (the blog where I picked up on this and one you should be reading) said that Knopf is the publisher. I checked the Knopf Fall 2012 and didn't see it listed, so it looks like it will be a Spring 2013 title at the earliest.
Chabon's next book Telegraph Avenue doesn't come out until September of this year, but Harper Collins did release the final cover a couple of days ago, via their catalog site. I wonder how many revisions they went through before everyone agreed on the red and the label was just retro enough… very cool! The blurb they offered up on the site:
The fictional world of Telegraph Avenue is grounded in Chabon's deeply researched, lovingly painted pop culture of Kung Fu, Blaxploitation films of the '70s, Jazz, and Soul.
This is one book that I can not wait to read this year.
O'Reilly Media's Programming Scala won't hit bookstore shelves for a long time. But the entire working manuscript has been posted to their site! Each and every paragraph, sidenote, chart and graph has a comment box underneath it. They are hoping that the community will contribute knowledgeble bits of information and ideas, which the author will vet and toss or incorporate. The idea is that this crowdsourcing filtered through their expert author will produce a more auhtoritative work.
Not too mention the marketing side of things. I guess one side could say "you'll sell fewer books, because all of your hardcore readers have been reading while it's been written". Which might hold true for a few folks. But can you imagine the buzz this would build within the programming community? Or how much of a boost the book might get from folks talking about/buying a book that they were involved in producing? The system has a sign-in for commenters so that they can be credited in the final book, if their contribution is used. O'Reilly also provides RSS feeds for the various sections so that a commenter can keep up with that specific section of the text.
Obviously, this idea wouldn't work for every type of book and the progamming community is a good place to start. It's not the first book to be published from crwodsourced information, but it's the first time, I'm aware of, a major publisher has added a crowdsourced component to the traditional publishing workflow. Which means that it gets checked and balanced by author and editor, which may be enough to sway a few naysayers.
I wonder what Andrew Keen would think of this community/professional mashup? Ha!
It's always fun when you stumble across a post that whet's your appetite for what's coming down the pike. Such was the case when I read this post on Book Case, about a sneek peek at Pat Conroy's latest novel. Though it won't be out until end-of-summer early-fall South of Broad sounds like another great southern stoked read. I do hope it's more Lords of Discipline and less Prince of Tides.

Chris Anderson says his new book Free! Why $0.00 Is the Future of Business will be unleashed – free- upon the world on July 6th. As popular as his first book The Long Tail was, I'm sure I'm not the only anxious to read his latest thoughts.
In the interview he had with Guy Kawaski, Anderson does say that he expects the free version of his book to spur print sales. Something many in the industry are watching, I know. How does a publisher make money at giving their products away for free? While I'm sure the book will contain nothing as useful or solid as the formula filled The Art and Science of Book Publishing, Anderson says
"If you can convert 5 percent of users to paid, you can cover your costs. Anything above that, and it becomes extremely popular."
I haven't started crunching the numbers yet, but that seems to assume a very slim overhead. But it gives us a starting point. Something for the industry to aim for or pass. We'll see. Five percent it is.
One of these days I am going to have to make it to SXSW…. but until then, thank the internet gods for blogs and twitter.
The Book Design Review Blog has a good post on Chip Kidd's Bat-Manga!, which features Batman as he's been portrayed in Japan since the 60′s. The post also has videos as well as shots of the covers. I don't speak Japanese, but I love the way that the characters in the Bat-symbol have the cowl points on them. Very cool stuff!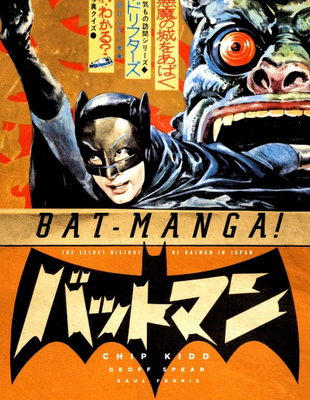 Blogs I Like
Links
Categories