Browsing all articles in Type
The folks over at Type Token featured the work of Hong Seon Jang the other day. The artist has a show in Denver right now where patrons can check out his cityscapes composed of lead type. This is truly amazing and a great way to show off type pieces. Most of the typography-related art that I run across consists of the printed letterforms, but this takes the mechanical type and pushes into the architectural realm.
In 1860, Édouard-Léon Scott de Martinville was a typesetter (and possibly a bookseller) in Paris. He also liked to tinker, which lead him down the path of making the world's first audio recording, using his printing tools and knowledge.
Printing and imprinting is something Scott understood very well. Capturing the song in 10 second visually-printed snippets must not have been too difficult, once he figured it out. The problem was he didn't know how to play back what he'd recorded!
He printed all of the "grooves", using his phonautograph on rag paper,  but no phonautograph-reader has been found.
So modern-day scientists had to cook up a way to sight-read the recordings, to what I think are pretty nifty (and spooky) sounding results.
This scenario doesn't sound too different from today as people in the music, movie, book, web and mobile fields are crossing lines, mashing up tools and pushing boundaries to make new books and products. I just think it's neat that the first audio recording ever made was actually printed on paper.
The folks over at We Love Typography are mobilizing the world's font faithful in a very cool new project mapping cool fonts around the world. To participate all you have to do is have the iOS Instagram app installed, have geotagging turned 'on', snap a pic and upload it with the tag #wlt or #welovetype. Then the crawlers will grab it an place it on the correct place on this Google Map.
No doubt it's going to get crowded fast. But it's a great idea.
There are also two new FREE iOS apps for font and type geeks:
Fontli, has an Instagram-feel, and is trying to build a social network around fonts. The idea being that you could submit a snap shot of some type and your virtual rolodex of font-ish friends could help you identify it. Also, there is…
Fontmaker, which lets you create your own font variations to use in text messaging and emails sent from your mobile device. Not super-useful, but I could see where some would get a kick out of throwing in some random ligatures and letter forms.
Here are three of my favorite typographic calendars available this year. It's amazing what type designers are doing in the way of font choices and materials. I admit that 99% of my "calendaring" is done via computer, but these three pieces almost elevate the calendar to the level of art.
This one is $32 and is printed on 12 different wooden cards. Each screen-printed with colorful inks and starkly different fonts.
This one has been around for over a decade (it's been known as Pentagram's calendar) and the designers are branching out with this one. The 2012 edition is comprised of original fonts that are not for sale anywhere. The fonts were designed by contemporary designers who used landmarks, technology and pop culture as inspiration. This is sold in two sizes for $35 and $55.
Harald Geisler's Typographic Wall Calendar
This one is by far my favorite. Geisler successfully ran a Kickstarter campaign to push his calendar into production. His calendar is massive as he used 2012 computer keys to list out every day of the year. No doubt this one would be one heck of a conversation piece. It's pretty fun. There are various prices. A single calendar runs for $35 (including shipping). Prices go up if you want signed copies or the actual keyboard keys. It's worth watching the video just to get an idea of the artist and how the calendar is laid out.
This is going on my list for the holidays. It makes me laugh every time I look at it. It's a perfect statement for the bookish and the designer alike. It's available from the Abel Parris web-shop.
Fantastic does not begin to describe how cool these wallpapers are. These would make great screen savers, t-shirts, tattoos. Well, maybe tattoo is a bit much…. We're looking to gussy up some walls around the house and I ran across these awesome wallpapers. Some are screen-printed, some letterpress-looking, but all are 100% cool. And Italian. I haven't found anything local that even comes close. Take a look:
Here's the site where you can check out all the wall coverings. Just click on the 'Life' drop down. There is also a drop down to select the language. Setting it to English is helpful. It's doubtful that we'll get any of these exact typographic wallpaper designs, but I certainly have some cool ideas now.
These are two of my favorites this year… and they're cheap! First up is one sporting a series of wood cards printed in such a manner that they resemble old type-specimen cards. Pretty cool. It's only $24 for the whole 2011 series.
But this one has to be my favorite so far. It's almost a work of art. This wall calendar is only $10 and displays the entire year on the front, thanks to the cool circular type design. Sure this isn't one that you could log appointments on, but it sure would look nice on the wall.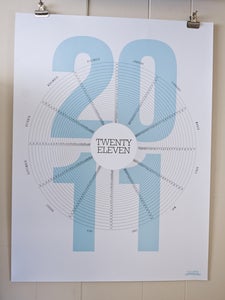 Did I miss any other cool calendars this year?
We all have rulers, around the office, with this info on them and I think this typographic mug would make a cool stocking stuffer for any coffee-powered designer you know. It's available through a Zazzle shop, for just under $22.
File this under "W" for "I WANT"! I saw the fontastic Alphabet Drawers over on Freshome and had to share. How cool are these? I think they'd look great on the table by a reading chair or just about anywhere.
Sadly, I have not been able to make it to Hatch Show Print. This pains me more than I can express here on my little site. But thanks to the Birmingham AIGA chapter, I get to enjoy Hatch Show Print coming to me!
Thursday, June 25th at Bottletree Cafe, Jim Sherraden will be there to show off and talk about letterpress, art and the Nashville shop that's been in business since 1879.
The event is slated to run from 6p-8p. See you there!
Blogs I Like
Links
Categories