Browsing all articles in Publishers
Little, Brown and Company have a new logo. They are ditching the 70-year-old etching of some Boston-based revolutionary war era memorial called the Bullfinch Monument, for an updated type-only design. Here's a link to the short New York Observer article, which is worth the read because they take a couple of paragraphs to talk with the font designer who behind the new "L" and "B" letterforms.
If you dig vintage colophons and publisher marks, visit this site (via Penguin blog). Most seem to be scanned from pulp serial paperbacks and it's pretty fun to look through. I do hope they'll keep updating it.
I am not enjoying today and have given up listening to NPR and reading blog/tweets until April 2nd. It's just too much!!!! Ahhhh!!!! NPR got me this morning with the whole 2 minute piece on STEAM. And I haven't been happy since. 
And now over on the most excellent harperstudio blog, they have announced a new ebook pricing/marketing plan. Which seems really forward thinking as it engages the Twitter crowd, but then you can read the comments and every other person is "This has to be April Fools". So what's the point? If it's legit, then they missed the boat cause their plans are being second guessed and if it's a joke then it's just wasted time. But, I guess it did spawn a blog post here…
So I'll just have to wait until tomorrow, to see what's really real in the real world.
Chris Anderson says his new book Free! Why $0.00 Is the Future of Business will be unleashed – free- upon the world on July 6th. As popular as his first book The Long Tail was, I'm sure I'm not the only anxious to read his latest thoughts.
In the interview he had with Guy Kawaski, Anderson does say that he expects the free version of his book to spur print sales. Something many in the industry are watching, I know. How does a publisher make money at giving their products away for free? While I'm sure the book will contain nothing as useful or solid as the formula filled The Art and Science of Book Publishing, Anderson says
"If you can convert 5 percent of users to paid, you can cover your costs. Anything above that, and it becomes extremely popular."
I haven't started crunching the numbers yet, but that seems to assume a very slim overhead. But it gives us a starting point. Something for the industry to aim for or pass. We'll see. Five percent it is.
One of these days I am going to have to make it to SXSW…. but until then, thank the internet gods for blogs and twitter.
There is a great post over at Rich Rennicks' blog The Word Hoarder, where he posits ideas and questions about how publishers and bookstores operate. I've read through it twice and have yet to comment. There's just so much there. I'll keep checing on it and hope to comment soon.
But I wanted to post the link because this is a discussion that many in the publishing industry should be having.

I love this idea of "subscription publishing". Beyond the fantastic economic plusses (ie impact to cash, scaled print runs, etc.) it seems a great way to build buzz and get people looking forward to a body of work, not just once, but again and again. Small indie publisher Featherproof Books (publisher of local Birmingham author Susannah Felts) is trying such a model, with the launch of a new imprint Paper Egg Books.According to Publishers Weekly:

All print runs will be determined by the number of subscribers who sign up for the program; they will pay $20 per year to receive two books — either a novella, flash-fiction or short story collection — one in the fall, the other in the spring.

    
You don't have to look far to find someone crying "print is dead". But it's not. It's just going through a very long overdue (and stressful) evolution. Or maybe de-evolution? It seems that most of Charles Dickens work was serialized "back in the day" and it worked out well for him. Last year, Penguin released The Glass Books of the Dream Eaters in serial form first and built quite a following in Britain. Though it didn't work out so well here in the States.So best of luck to the crew at Featherproof, we're all watching! 
S&S has launched the replacement for simonsays.com. The new site is full of video and audio and sports a community section. I haven't clicked through everything yet, but it seems par for the course these days amongst publishers. Kudos to S&S for finally getting it launched!
JPG Magazine broke out with a bold content generation plan a couple of years ago: bring a "photo enthusiast" print magazine, they would scour the internet for the best of the best non-professional images and reprint them in their pages. It's always been a fun magazine to flip through. As innovative as this approach was, their business model was not so much, as they relied on ad sales to support the printed product.
In my opinion they made a VERY good run at it and I am sad that they are closing up shop. You can get the full run-down from their blog. At a minimum, they are one great case-study for publishers everywhere trying to divine the future of print media. I just wish Laura and crew could have made it.
I attended my third O'Reilly webinar today. Titled What Publishers Need to Know About Digitization, it was led by the very savvy Liza Daly. They said they're working to get the session's recording up on the site, so it should be up there soon. This was, by far, the best webcast I have attended. Though the one on Why Publishers Should Care about SEO was ok too. I do wish Daly and crew had spent a little less time with the 101 intro stuff (how to scan something) and a little more on the monetization part that they flew through. In fact, I'm still unclear on where any of the monetization is coming from in any of Daly's 3 examples. I'll have to go back and look. The next webcast is Twitter for Business, in case you're interested.
But today was really just another session of 100+ people asking questions (and getting the answered!), that showed just how many cool tools publishers have at their disposal. They just have to be creative. I know that the holiday season is predicted to be a slow one for books, but after today's session I can see the potential and though things may change a little and new formats, distribution channels may emerge, I really think that books and publishing are going to be just fine.
Much to the dismay of Jeff Gomez, whose book I plan on reviewing later this week.

Religious publisher Thomas Nelson has amassed a list of select titles and will send review copies to bloggerswho agree to post a 200-word review on their blog and and 200-word review on Amazon. The company's CEO has been an active blogger and tweeter for some time. So he seems to really get the power of the medium and the tools that his marketing department can use.I know a lot of publishers are active in social media, but do you know of any other houses that have an official program like this in place? Obviously, they can't fill every request, but it's a neat idea. Kind of like LibraryThing's Early Reviewer program, but they just don't have to go through LT.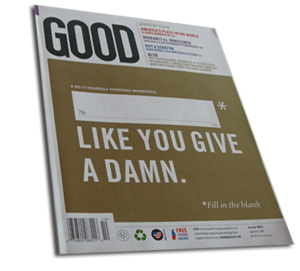 The folks over at GOOD Magazine are spinning a little Radiohead retail. That is you pay them whatever you want for a year's subscription (starting at a dollar). Think they have too many charts and the traditionally $20/yr. rate was too high? Pay $10. You keep up with paper and gas prices and realize these probably couldn't do anything else in life, but create a magazine that tries to create and be helpful, so they need a liferaft? Pay them $50.
Even if you've never picked up the magazine. How can you pass up an annual subscription for a dollar?
Their post asks readers to check back on October 22nd, for an update, on how this new plan is working out. We'll pass along any news, of this great experiment.
Blogs I Like
Links
Categories