Browsing all articles in Friday Finds
Here is one that's a bit exotic, if for no other reason than I can not find a US distributor. So ordering direct may be your only option. I have no idea what shipping from Japan would be, but this $40 porcelain vase would be very cool on most any bookshelf.
After translating the page, you can see that it's called the Hana Paperback planter. It's about the size of  a trade paperback. What's really nifty is the slipcase it comes in, so when you have no flower to show you can flip it around so the spine is facing out. This would be a very unique gift for any book lover.
These are classic and absolutely beautiful. Up front know they run $90 for each 17″ shelf, but they would be so handy. I'm pretty sure that every book lover needs two. These are angled just right to serve as "presentation shelves". So you could have your signed firsts or mini collection of Alvin Lustig's New Direction covers, set out so you can enjoy and your guests can take a look.
But these table top bookshelves are also portable, so you'd need one to sit on your desk to hold all of the books you need access to, on a daily basis, as you write your book (you do have a book in you. That's not a question. You do, whether you know it or not).
Of course, if you buy three, then you'll have to start looking for the perfect library table to go under them… hmmmm…
The Book Bandolier is one of those super simple, super nifty solutions out there that would be a good gift for any book lover. If you have ever carried more than two books at once I'd wager you've thought of something like this.
The adjustable strap is 2 inches wide and 21 inches long, with 6 pen/pencil/brush loops. That way you can carry a couple of books and highlighting tools without having to lug a bag or load up your pocket protector. I can't tell what it's made of. Bits of it look like faux leather, but I'm not sure. This book bandolier is made by a crafty person in San Francisco and is for sale via her Etsy site for $26. Very handy.
This is going on my list for the holidays. It makes me laugh every time I look at it. It's a perfect statement for the bookish and the designer alike. It's available from the Abel Parris web-shop.
Fantastic does not begin to describe how cool these wallpapers are. These would make great screen savers, t-shirts, tattoos. Well, maybe tattoo is a bit much…. We're looking to gussy up some walls around the house and I ran across these awesome wallpapers. Some are screen-printed, some letterpress-looking, but all are 100% cool. And Italian. I haven't found anything local that even comes close. Take a look:
Here's the site where you can check out all the wall coverings. Just click on the 'Life' drop down. There is also a drop down to select the language. Setting it to English is helpful. It's doubtful that we'll get any of these exact typographic wallpaper designs, but I certainly have some cool ideas now.
These are two of my favorites this year… and they're cheap! First up is one sporting a series of wood cards printed in such a manner that they resemble old type-specimen cards. Pretty cool. It's only $24 for the whole 2011 series.
But this one has to be my favorite so far. It's almost a work of art. This wall calendar is only $10 and displays the entire year on the front, thanks to the cool circular type design. Sure this isn't one that you could log appointments on, but it sure would look nice on the wall.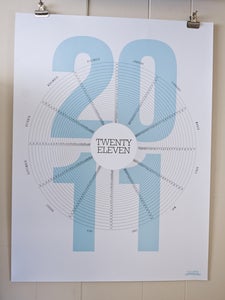 Did I miss any other cool calendars this year?
We all have rulers, around the office, with this info on them and I think this typographic mug would make a cool stocking stuffer for any coffee-powered designer you know. It's available through a Zazzle shop, for just under $22.
I ran across Rory's Story Cubes the other day and am trying to decide if my son is old enough to play. He has quite the imagination an I wonder if it would carry over to this game.
How fun would it be to sit around rolling dice, helping each other build on each other's stories? Though not really a book-themed game like some of the others we have, I do think it would be a nice addition to the game closet. There is also a $1.99 iPhone app. Which is handy, but really doesn't impress me as much as the analog version. I think we'd do better with a handful of dice to toss around the floor.
I have not found them in a Birmingham-area store yet, though the site says Barnes and Noble stocks them. I'll let you know if I find them around town, if you'll do the same! Have a good weekend.
Now, I've seen it all. The bookbrella almost makes sense… but I really think I'd just feel silly sitting on the beach with one of these.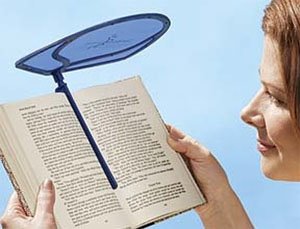 {via book patrol}
Blogs I Like
Links
Categories