Browsing all articles in Bookshelf
I think this bookshelf/table by Lema is awesome. It stores books, keeps them close, on display and still keeps the space a useful one. It's a win, win, win, win. This creative bookshelf is called the Booken and it is being shown at an international furniture Show in Cologne. So no price yet. I could use three of these.
Here is one that's a bit exotic, if for no other reason than I can not find a US distributor. So ordering direct may be your only option. I have no idea what shipping from Japan would be, but this $40 porcelain vase would be very cool on most any bookshelf.
After translating the page, you can see that it's called the Hana Paperback planter. It's about the size of  a trade paperback. What's really nifty is the slipcase it comes in, so when you have no flower to show you can flip it around so the spine is facing out. This would be a very unique gift for any book lover.
I saw this photo over on Exile Bibliophile (you do follow that site, right? You should) and it I saw so many things in this Parisian library that would improve my home library. Or yours.
First, the lamps. It almost looks like an oops and causes your brain to stutter, but then you realize how many problems these metal half-shades solve. It's brilliant.
Next up is the curved bookshelf with the counter-height slanted standing desk along the top. While I could not use the curve. I do have the perfect wall downstairs where one of these would do just nicely. That extra top adds some utility and display function to an otherwise boring flat bookshelf top. Very very handy.
These are classic and absolutely beautiful. Up front know they run $90 for each 17″ shelf, but they would be so handy. I'm pretty sure that every book lover needs two. These are angled just right to serve as "presentation shelves". So you could have your signed firsts or mini collection of Alvin Lustig's New Direction covers, set out so you can enjoy and your guests can take a look.
But these table top bookshelves are also portable, so you'd need one to sit on your desk to hold all of the books you need access to, on a daily basis, as you write your book (you do have a book in you. That's not a question. You do, whether you know it or not).
Of course, if you buy three, then you'll have to start looking for the perfect library table to go under them… hmmmm…
Church Street Coffee & Books
81 Church Street
Birmingham, AL 35213
Church Street Coffee & Books (site) @81ChurchStreet (twitter)
Church Street opened its doors on July 2, 2011. I stopped by on opening day to see what they had to offer, in the way of books. The selection there was great! It's not huge, but very well curated. You can tell that this is a shop isn't just run by folks who like coffee… they are also readers. It doesn't take a customer long to figure out that some real thought and research went into the books part of the business. The first thing you see when you walk in is a floor-to-ceiling double bookcase of fiction titles. It was great fun looking through what they had and it felt kind of like visiting a neighbor's home and perusing their personal library. There is usually just one copy of a book on the shelf and no floor stacks of the latest big-name thriller. So stop by and see what Birmingham's newest indie bookstore has to offer.
They also have about 8 tables and a couple of big comfy chairs to sit in. I didn't check to see if they have wi-fi and it was too hot, of a day, for me to buy coffee. But I did pick up a copy of Deborah Blum's "The Poisoner's Handbook". It's been my experience that coffee shops see books as an "add on" type deal. That's obviously not the case here and I'm excited to see what they have to offer on down the road.
Below are some photos of what the shelves looked like on opening day.
I am a big proponent of standing desks and get excited about posts like the one on Unplggd. I've been a "stander" for over a year and would recommend everyone trying it out. You can always grab a bar stool, if you want to sit. I like my converted bookcase/bookshelf method because it's:
easy to raise and lower the shelf for the monitor and keyboard (ergonomics are a must)
leaves plenty of room for a cashier's mat (highly recommended, to ease strain on heels)
it's cheap and easy to do
plenty of places for books and book covers that we're working on
I am in need of some bookshelves at home and can't quit lurking at places like bookshelfporn.com, but check these built-ins I just ran across:
I don't know why it plays with my sense of balance so bad. Every time I look at it I feel as if I'm just catching myself before I tip over backwards in my chair. Have a good weekend!
Books truly are the foundation for. . .  Props to the shop. . .  Look at how resourceful. . .
A photo is worth a thousand puns. I have been in many shops that this very same structural support could have been in. They always are the fun ones.
This came via email from the thereifixedit.com site. You can waste an entire day clicking through that site. You have been warned!
Hugh, over at BookOven just posted a pic of one his (neatly lines with bookends on every shelf) bookshelves and asked folks to share their own. I'm home with our 5-month-old this morning, so was able to turn around and snap this. I don't get to play along much! I didn't realize how crowded my shelves were until I uploaded the pic.
Cinder blocks and 2×4′s, anyone?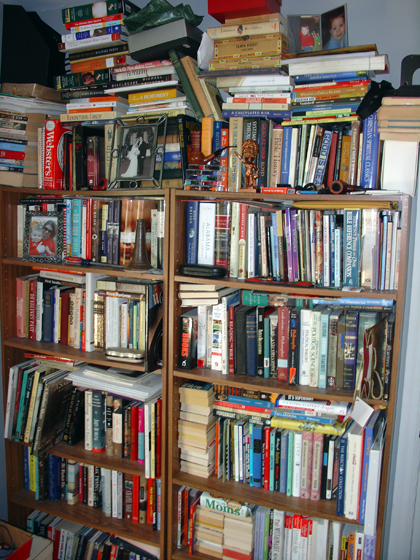 I ran across this photo over on the Freshome site and had to share… all it's lacking is a pot of coffee and my rear-end on the couch. What a perfectly small reading spot.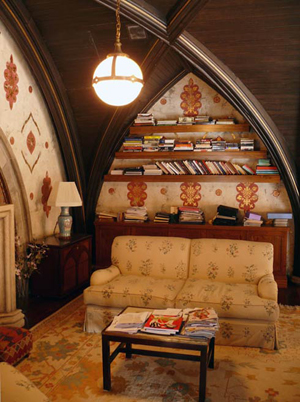 Blogs I Like
Links
Categories